Med designinspiration från naturen tillsammans med ECMF (Electronic Color, Material and Finish) så visar OnePlus 8T Concept möjligheterna och fördelarna framtidens teknik erbjuder. Dessutom med en responsiv inkänningsteknik så går OnePlus 8T Concept verkligen i bräschen för vad som är möjligt. Tillexempel skulle detta kunna ge oss touchfria notifikationer, alltså att vi med en enkel gest nu kan ghosta när någon ringer eller med en färgkombination veta vem som ringer och liknande. Det ger användare möjlighet att kontrollera OnePlus 8T Concept utan att vidröra den. Med mmWave-tekniken kan enheten registrera en användare och hur den andas som öppnar upp för flera användningsområden.
Background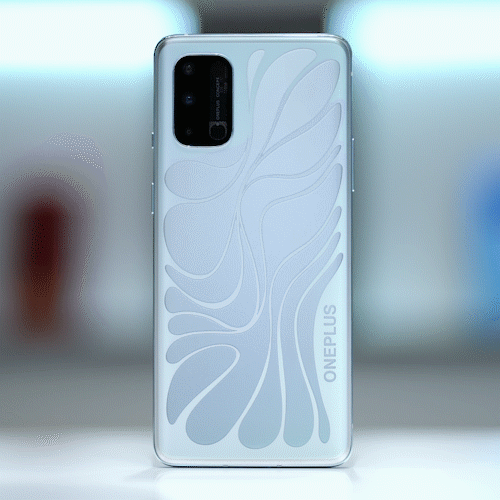 OnePlus is not just a smartphone company. We are a team of technology lovers who thrive on pushing the boundaries of what's possible. Sometimes that means bringing powerful new technologies to market in our flagship smartphones, like when we introduced the industry's first high refresh rate display on the OnePlus 7 Pro or ultra-fast wireless charging with Warp Charge 30 wireless on the OnePlus 8 Pro.
Other times, we like to experiment with next-generation technologies or designs that are ahead of their time. In January 2020, we launched our first concept phone, the OnePlus Concept One, which used electrochromic glass technology, a new type of color-shifting glass that gave the phone an "invisible camera." Showing the Concept One to the world was a highlight for OnePlus, allowing our designers and engineers to explore new ways of interaction with smartphones to bring a new range of benefits to users, if and when these technologies make it to market in the future.
Now with the OnePlus 8T, which launched in October 2020, we are pushing the boundaries of human interaction with mobile technology yet again. Combining design inspiration from nature and a burdenless approach to interacting with devices, the OnePlus team is building further on our first concept technology to unlock even more potential benefit for future smartphone users with our latest project – the OnePlus 8T Concept.
OnePlus 8T Concept Technology
We believe that a well-designed product design must always serve one goal: a better user experience. This thinking guides our design and development of products that we look to bring to consumers, but also to more conceptual technologies that we think can have a positive impact for users in the future.
The OnePlus 8T Concept uses a combination of natural design inspiration and advanced technologies to create a more natural interaction between users and the device.
Natural Design Inspiration
Our designers took inspiration for these colors from the multi-hued flowing water in the hot springs of Pamukkale, Turkey. Nature has perfected many designs, and by drawing inspiration from Pamukkale and other natural elements, we can craft new interaction experiences that are more natural, intuitive, and effortless.
Electronic Color, Material and Finish (ECMF)
ECMF, allows the physical design of a device work dynamically with the user and software features. For the 8T ECMF, that ECMF has taken the form of a color-changing film that contains metal oxide in glass, the valence state of the metal ions varying under different voltages. That means that when the metal oxide activates, the color of the glass changes from a dark blue to a light silver.
Reactive Sensing Technology (ECMF + mmWave)
The ECMF design becomes truly interactive by working in combination with mmWave, and changes the way we interact with our technology. The working principle behind this technology, borrowed from 5G, is that the mmWave radar module transmits and receives electromagnetic waves. When receiving electromagnetic waves, the digital signal processing (DSP) and CPU perform signal and information processing, allowing the device to perceive, image, locate, and track objects.
Potential User Benefits
Combining the shifting colors on the electrochromic back of the OnePlus 8T Concept with mmWave sensing technology is just the first step in opening up a wide range of possibilities for how people interact with their smartphones. In the near future, we believe there will be many more uses for Reactive Sensing.
Touchless notifications – ECMF could flash colors for an incoming call, and users could accept or reject the call with a simple gesture. That will allow users to control the OnePlus 8T Concept using gestures without even touching the device.
Breathing monitor – The mmWave technology can register a user's breathing, enabling the color to change in sync and effectively making the phone a biofeedback device. The OnePlus 8T ECMF breathes with you.
Introducing OnePlus Gaudí
Following the successful launch of the Concept One, OnePlus established OnePlus Gaudí, aiming to empower creative minds with meaningful and playful technology, while solving unsolved problems in a better way. A multi-cultural, diverse team of 39 designers based in Shenzhen, Taipei, New York and India, the team believes that art challenges technology and technology inspires art.
Now OnePlus Gaudí is bringing the Never Settle spirit to the OnePlus 8T, by integrating a new kind of more natural, biologically inspired interactivity for smartphones. With the OnePlus 8T Concept, the OnePlus Gaudí team developed an alternative version of the device that blends organic design with industrial design.
Om OnePlus
OnePlus är en global mobiltillverkare som utmanar konventionella teknikkoncept. OnePlus skapades runt mantrat "Never Settle", och skapar enastående designade telefoner av hög kvalitet och med högpresterande hårdvara. OnePlus frodas i att skapa starka band och att utvecklas tillsammans med sina användare och fans. För mer information, besök oneplus.com.